. . . for now.
I say again, for now. Not for ever.
Got to Coyote late tonight after work and David hadn't yet given up on me getting there, so we climbed some routes. But as he'd been bouldering for a while on his own, we didn't climb long. I was pleased that my hand didn't actually hurt at all, except for a little ache when I tried out a boulder problem in the new wing. (Of which more at the end of this post.) And I tackled a 5.9 up an arete that had a bunch of slopers and some dynamic-balance moves that meant I had to just go for holds that I wasn't certain about the shape of, and that's scary when you've got tendons that might turn on you: you can't really just throw for an unknown quantity with the same confidence when one wrong bit of torque could set you back another couple of weeks. But although I fell, I made it to the top, and I think I could send it now that I know the shapes. A week or so ago I'd have backed off it because of the hand. Progress!
But then David headed out and I thought I'd stick around and do some bouldering.
Wow. I thought I'd been knocked down a couple of pegs in my route climbing. Bouldering was downright embarrassing. I've been off bouldering since mid-December, after all. It matters. Also, it was nearing 10:00 pm and I hadn't really had dinner, there was that, too. But mostly I was just . . . kinda limp and weedy.
But, I told myself, these things can be improved. Having to work around my hand has taught me to watch for tiny improvements. I climbed a route today that I couldn't have done a couple of weeks ago. I've also been doing a lot of extra running and weights in the last month or so, and I've noticed differences there – I can run longer, and faster, now than I could two weeks ago. Bouldering can be the same thing. It's just hard to get there.
So, I decided to set myself a basic goal. Something to work at every time I go to the gym. I'm going to start doing laps on the island in the middle of the bouldering cave, just going around it, one side, then the other. Just to get my hands strong again and my legs and core back into the swing of it.
And so, feeling less than badass, but motivated to work at it (slogans from CrossFit internet memes dancing in my head) I decided to set my goal, and then go home, because if I kept climbing tired, hungry and discouraged I really would re-injure myself.
Sadly, as I was getting changed, a girl came into the changing room, and said, "You were doing really good out there! You were getting pretty high up on that one problem!" And maybe I was prepped to hear it, but it sounded like 'encouraging the newbie.' I mean, here I was falling off the easiest problems, and although I had my own shoes and gear, and a couple of pieces of outdoor gear hanging off my harness, I don't, exactly, look like "a climber" at 180-185 lbs. But just when I'd told myself it didn't matter what anyone thought about me, and that I was just going to get myself to the gym and freaking train like a boss . . . I got the helpful person assuming I was a noob, and perkily encouraging me. The sort of thing the author of the Dances With Fat blog apparently gets a lot at the gym.
Augh. 
I said thanks, but then made a point of saying something about the strained tendon and how I was trying to get my grade back up. Just to assuage my dented ego.
Anyway. Never mind.
The point is, I've been watching myself make steps forward since I injured my hand, and that can be very encouraging. When you can see the improvements, tiny though they are, you feel like you're accomplishing something. So I'll hold on to that.
And in the meanwhile . . .  the new section at Coyote is now open! HOW COOL IS THAT?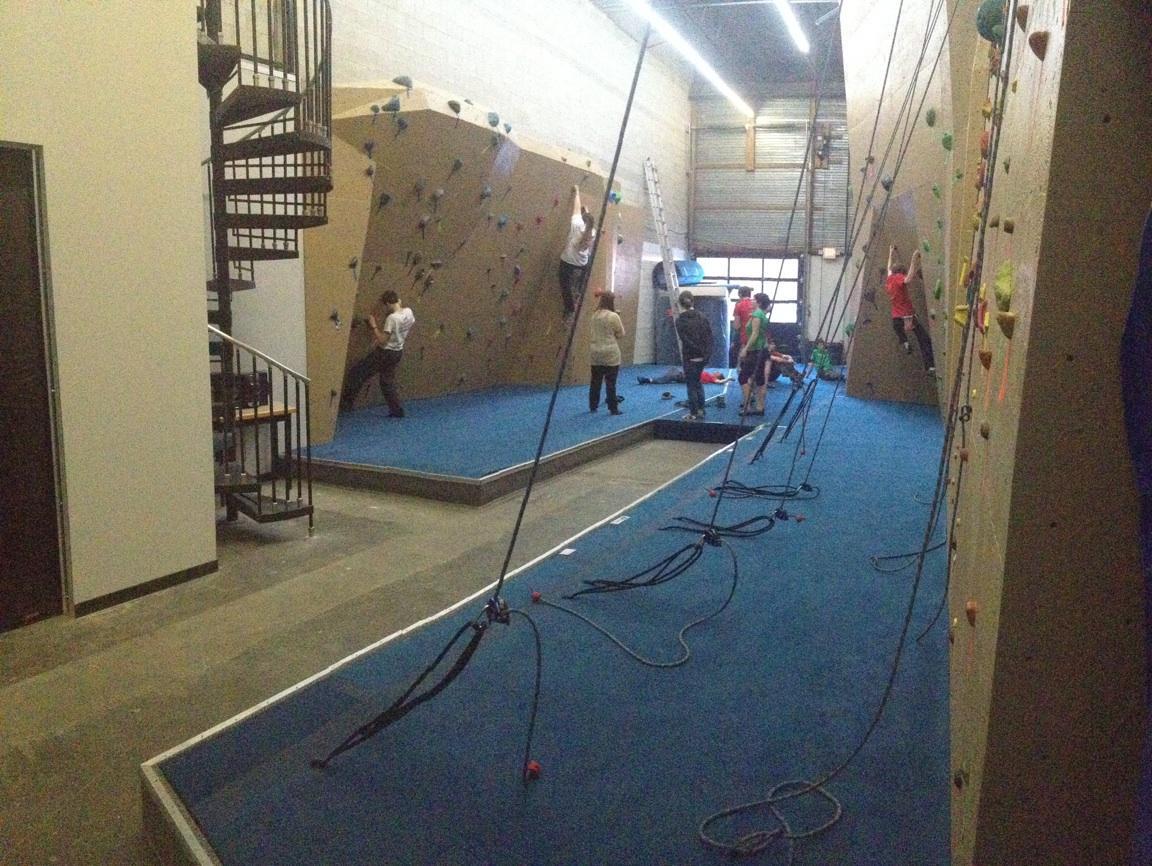 A set of near-vertical slab routes, a new lead area that's not set up yet, and quite a lot more bouldering. Really, I'm just super pleased because I really do love Coyote, and I'm happy to see them doing well enough that they can expand. It's not the tallest gym in the city, or the biggest gym in the city, but it's the nicest. Coyote's my home gym.